With a young audience at its fingertips, the eSports industry is on track to achieve the kind of mainstream celebrity it could have only dreamt of ten years ago. It has grown far beyond its roots: the "Intergalactic Spacewar Olympics" at Stanford in '72.
The signs are everywhere. Explosive community growth has attracted coverage from traditional outlets like ESPN and endorsements from celebrity athletes like Michael Jordan. Financially, eSports brought in over $1 billion global revenue in 2019 and now projects a 9% CAGR in the coming years. eSports is driving the growth of chip manufacturers, as improvements in player experience drive high market growth for next-gen GPUs makers like Nvidia (Gartner).
Once a niche market, appealing to a limited audience and few participants, e-gaming is positioned to become the next big thing in sports.
The twists and turns that have shaped the industry.
eSports is a sport.
eSports has long strived to be a sport. To establish itself, it has looked to follow the playbooks of more traditional sports.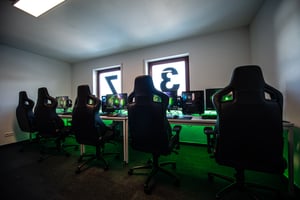 The curation of pro-gamers is ground zero for this effort. Without pro gamers, it is difficult to position as anything more than a hobby. With pro-gamers, eSports can position as much more than that -- an occupation and, therefore, a sport.
Professional players have added legitimacy to eSports. Those players are now taking their cues from traditional sports training schedules: including undergoing intense coaching sessions and rigorous workouts. This emulation of the conventional has helped lure fans to the sport.
Fandom powers growth.
eSports has an advantage over traditional sports. Entertainment is not the only factor in luring in spectators. eSports fans are players first and have a strong desire to improve their play. They play and play regularly. While eSports fans are watching, they are also looking for tricks and lessons that they can apply.
This unique audience sustains and propels the community. As younger gamers age into the market, they keep playing, and they watch more. The more they watch, the more they play and spend. The same cannot always be said for traditional sports fans, who are often active players at younger ages but not into adulthood.
This perpetual, invested community has been pivotal to the growth of global eSports.
Streaming platforms created a hockey stick.
Gaming-specific streaming platforms like Twitch and YouTube Gaming give fans a direct connection to the players and teams. Mainstream social networks allow those connections to flourish. Relationships develop while using features like live video, chat rooms, and broadcasting.
A strong community has allowed the vertical to embrace opportunities beyond gaming alone, metaphorizing into a complex digital ecosystem. Spikes in spectatorship allow not only in-event sponsorship but also platform and title loyalty that drive sales and ad-revenue.
A sustainable future requires inclusion.
Further Looking to the future, I see inclusion and safety as essential qualities needed to bring the eSports industry to the next level. These are no longer nice-to-have but a necessity because of the industry demographics and growth hubs.
Inclusion and safety for women, youths, and diverse races will become a platform differentiator and the path to community retention. Huge return, recognition, and loyalty lie ahead for brands that heed the need to broaden their view on the type of players they attract.
A third of the players are female -- yet there is no armor

pret-a-porter

.
Women comprise 30% of eSports viewership and 35% of eSport gamers (Interpret). These numbers keep growing. Women represent a vast untapped resource that any marketer worth their salt will want to target. Part of nurturing this segment will involve confronting inappropriate behavior -- harassment, threats, and other abuse for women players are prominent. It will also mean tackling the inherent bias that lies within this traditionally male-dominated vertical (brand campaigns aimed at women are virtually non-existent).
The emergence of eSports at a youth level is a double-edged sword.
The eSports audience is getting younger. In the US, we even see varsity eSports rising to the mainstream, with states allowing high schools to become sponsors. These younger audiences are more susceptible to bullying and threats. Younger players (and their parents) must feel safe for this growth to be sustainable.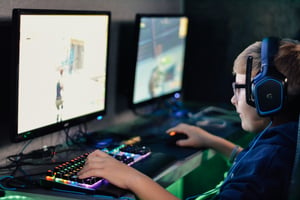 "Trash talk" is inherent to gaming, but there is a line. We must stop toxic behaviors -- sexual harassment, threats, bullying...
eSports are global, yet racism remains.
Abu Dhabi's new Yas Bay Arena will open this year with a projected 18,000 capacity. This will mark the debut of a new region, the Middle East, joining the parade of APAC, Europe, America, and Oceania regions.
Yet, as Kishonna Gray documented in "Race, Gender, and Deviance in Xbox Live," racism is still prevalent in online gaming. The industry will have to try harder to combat racism, as gameplay goes even more global.
The billion-dollar question.
What can we do to foster inclusion and sustainability? There are four measures the industry can take as a group -- measurement, recruiting, game design, and content moderation.
Inclusion-related success metrics.
Today, revenue and audience growth are the most cited metrics in the industry. How about community retention, NPS, diversity representation, toxicity incidences, and brand safety? Creating success metrics beyond revenue and profitability is key to the sustainability of the industry.
Recruiting for diversity.
Developers, publishers, platforms, and all shapers and movers of the industry have some work to do. It will take time, but a concerted hiring effort is needed to achieve a better gender balance, racial diversity, and cross-disciplinary collaborations. Female leaders need to sit on community policy boards and game design teams.
Design inclusion incentives into games.
We can infuse the incentives for inclusion into the game design -- reward players within the games for inclusive behavior. Lazzaro's abuse-resistant design philosophy "4keys2fun" -- people fun (friendship), easy fun (novelty), hard fun (challenge), and serious fun (Meaning) -- exemplifies a proactive adoption of game mechanics to encourage cooperation and inclusion. Game designers should work with behavioral scientists and sociologists.
Content moderation for trust & safety.
This is hard because trash talk is part of gaming. Yet, there is a line between trash talk and disruptive behaviors such as threats, bullying, sexual harassment, radicalization, and so on. Promoting a tournament code of conduct and platform guidelines for players, coupled with human-in-the-loop content moderation, will ensure a safer environment for all.
A sustainable future for the eSports industry is within reach. To ensure it, we must focus on inclusion and safety practices, and we must infuse safety goals and KPIs into the definitions of success for this fast-growing industry.